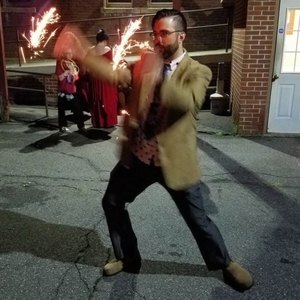 Davis
Special guest
"Those who sow the wind will harvest a typhoon"
The Iranian Writers' Society, December 2009
"When I reflect that the task which the artist implicitly sets himself is to overthrow existing values, to make of the chaos about him an order which is his own, to sow strife and ferment so that by the emotional release those who are dead may be restored to life, then it is that I run with joy to the great and imperfect ones, their confusion nourishes me, their stuttering is like divine music to my ears."
"I'm working on a new album now. It's called Pleasure Island: A Rock Fantasy. It's about some guys who took a hike, and they found a place called Pleasure Island. And they met all kinds of chicks, and they went on rides and — it's just a concept. I haven't developed it yet. I think people are going to love it — it could be the best thing I've ever done."
"Bigfoot was created by the government to make us believe in forests."
"It's not a significant bullet."
Davis has been a guest on 3 episodes.
October 1st, 2018 | 31 mins 37 secs

fedora, linux, shiny, shiny podcast, star trek, star trek the next generation, ubuntu

Colin and Chris are out this week but we wanted to release something from the archive for your pleasure. First, we deep dive into the universe of Star Trek and then Davis joins us for a look at various Linux distros. It's an easy going Shiny Podcast, the quality of the audio should prove that point. Enjoy and see you next week!

May 14th, 2018 | 1 hr 7 mins

acer swift, amd, android, android p, apple, build, build conference, california, chromebook, chromeos, google, google assistant, google io, linux, macos, microsoft, net neutrality, pixel, podcast, ryzen, shiny, shiny podcast, solar, solar energy, solar panels, steam, steam link, steam mobile, unix

With dear friend Davis along for the ride, we break down the biggest news from Google IO 2018. Plus we cover Microsoft Build, new gear, Net Neutrality and so much more!

September 14th, 2017 | 1 hr 11 mins

android 8, android oreo, apple, bezel, bitcoin, china, comcast, credit, credit freeze, dsl, equifax, experian, fallout, fallout: new vegas, ico, iphone, iphone x, lawsuit, notch, pixel 2, transunion, twitch, vermont

This week we get our hands real dirty handling the muck Equifax has bestowed upon 140 million Americans, the good, the bad, the ugly of the new iPhone X, announcement of our new tangential gaming project, and more!